In 1909, James L. Lynch retired from his various roles and duties as an officer with division 260 of the Chicago Streetcar Workers Union to enter the business as a sheet metal industrialist and producer of union badges, banners, and buttons. His early endeavors focused on "…all supplies used by labor organizations and fraternal societies", with his first manufacturing business being located at 108 E. Washington Street in Chicago.
Between 1911 and 1912, Lynch applied to patent both a unique process for manufacturing lithograph buttons and a new system of attachment for his buttons. In the application for his lithographing process, Lynch explains that rather than using the current system of attaching a printed design to a metal base and securing it with a sheet of celluloid, his process would imprint the design directly onto the metal of the button which was to be followed with a protective gloss coating -- giving the same luster of celluloid but at a much smaller cost to the manufacturer. Regarding the outcome of the process, his 1912 patent application states:
"…a button is thus formed which is exactly similar in appearance to the ordinary type of paper and celluloid covered metal buttons, but which is produced at exceedingly less cost, and furthermore, owing to the fact that in its finished condition, it is essentially an all-metal construction, it is far more durable than the other older type of button."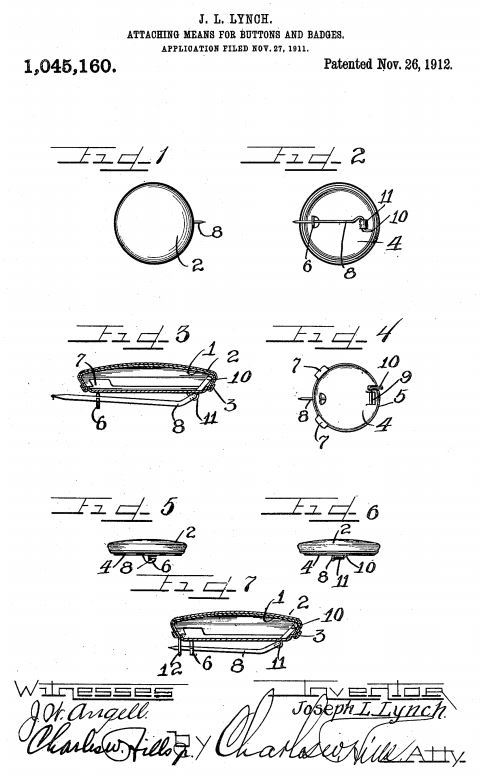 Lynch's patent for the lithography process was approved in February of 1917 and up until 1925, J.L. Lynch Co. continued to produce various novelties which included these buttons, badges, banners, and flags at a factory located at 325 W. Madison Street in Chicago. Lynch's idea for a button fastener which would remain intact on the wearer's garment while the button face itself was changed out – both to reduce waste and the occurrence of unsightly ware on fabric from pinning and unpinning – was patented in November of 1912, but, unlike his printing process, failed to catch on.
Noted as "the world's largest advertising button factory" and advertising themselves with the creation of "buttons that mold public opinion", J.L. Lynch Co. was eventually consolidated and absorbed by the Green Duck Metal Stamping Company -- another "prolific" Chicago company which, since 1906, had been producing a wide variety of metal products including political campaign buttons. According to a press release from Green Duck in 1923 regarding the absorption, it was declared that Lynch's lithography system was "revolutionary" and "rendered celluloid buttons as obsoleted as celluloid collars". Green Duck claimed that Lynch's metal buttons were superior in quality to their celluloid counterparts in many facets including appearance, permanence, color, price, and with metal's ability to remain intact without the risk of tarnishing, softening, or peeling.
Both before and after the merge with Green Duck Metal Stamping Company, Lynch manufactured metal buttons for such organizations as the American Red Cross and the Salvation Army. Additionally, many buttons Lynch produced were politically themed with production for both the Republic and Democratic National Committees and presidential candidates such as Warren G. Harding in the 1910s. The same 1923 press release claims that with the co-merging of the two manufacturers and their factories, they had the ability to produce up to one million buttons a day. J.L. Lynch dissolved as part of the Green Duck Metal Stamping Company, after Green Duck was sold to a British firm in 1996 and then finally closed its doors in 2004.
Source: Amalgamated Association of Street, Electric Railway and Motor Coach Employees of America, Amalgamated Transit Union (1908-1909). In Transit. Volume 17. Retrieved from https://books.google.com/books?id=Hc7NAAAAMAAJ&pg=PP1#v=onepage&q&f=false
Source: Baseball Pinback Buttons (2015). Lithograph Pinback Buttons (And One Unique Contraption). Retrieved from https://baseballpinbackbuttons.wordpress.com/2015/03/02/lithograph-pinback-buttons-and-one-unique-contraption/
Source: Gable, Gene. (2011). Scanning Around with Gene: Clicking at the Green Duck. Retrieved from https://creativepro.com/scanning-around-gene-clicking-green-duck/
Source: Hake, T., King R. (1991). Price Guide to Collectible Pin-Back Buttons 1896-1986. (2020). Green Duck Company Archives Offered at Hake's. Retrieved from https://scoop.previewsworld.com/Home/4/1/73/1014?articleID=90228
Buttons in the museum manufactured by J.L. Lynch