The American Badge Co. was founded by Frank A. Smith in 1900. The company's products ranged from badges, buttons, banners, advertising, and novelties. Smith became the company's treasurer, president and director of the company for many years, along with his wife, who later also became one of the company's directors.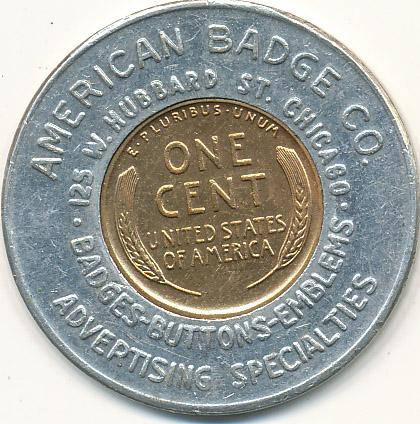 Advertisement was be the company's main focus, coming up with a range of unique products for their clients. Promotional items included a Theodore Roosevelt Campaign walking stick, encased cent currencies, along with the usual pinback buttons for sports teams like the Chicago Cubs, regional events, political figures, and badges. The company advertised its own business with encased cents and paperweights with information on the range of products they offered to the public. The company even joined in the automobile emblem business by making auto emblems for cars like fellow button and badge maker, Whitehead & Hoag. Smith went on to invent new products for the company, including a locking mechanism for a pocket savings bank.
The company was active in the Chicago community, taking part in the 1925 Illinois Products Exhibition at Chicago and the Chicago's World Fair in 1933, selling advertising products for the Crete Centennial Celebration, and the 1938 International Air Show in Chicago.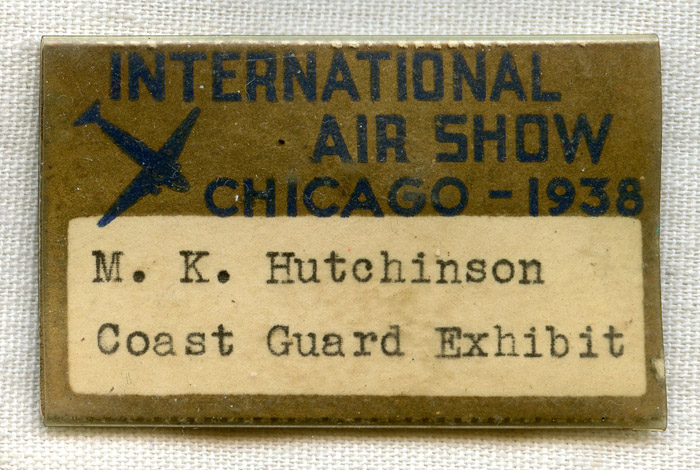 The ownership of the company stayed in the Smith family until Ed Dunne, Smith's grandson, sold the company to Ken Buck in 1977. At that point in the time, the company consisted solely of Buck, his wife, Mary, and his father, who operated the business out of Buck's garage. The business grew to a staff of 50-60 workers as the company became a family-owned business with Buck at the reigns along with Mary, who served as co-owner of the business. Buck became President of the Specialty Advertising Association of Chicago, a regional trade association representing 535 suppliers and distributors in the six-county Chicagoland area.
The company continued to work in advertising products. They went on to win the 1991 Supplier Star by Specialty Advertising Association International with the company hailed as best in performance and overall services and began taking International orders from companies as far away as Norway. The company went into a slump, perked up by the campaign of Texas billionaire Ross Perot's presidential campaign in 1992. Buck noted that with the rise of televisions, the use of traditional campaign buttons wasn't as popular or lucrative as it had been.
American Badge Co. remained a family operation until Buck and his wife retired, selling the company to fellow button maker, Greenwood Enterprise in 1993, which would later be renamed American Greenwood.
Greenwood Enterprises was born in 1973 from Ted Bragiel's efforts. What initially started as a hobby making buttons for friends turned into a million dollar industry by the 1980s. Ted Bragiel and his girlfriend were running a head shop in Mount Greenwood, Illinois. Bragiel was seen as a wild individual with lots of ideas, including topics and designs for buttons that were not chosen because of how unique and edgy they were. Bragiel and his girlfriend bought a button machine from Parisian Novelty and began the button making company. Some of the company's customers included well-known political figures such as President Ronald Reagan, whose staff ordered buttons for his inaugural celebrations, President Jimmy Carter, Presidential Candidate Gary Hart, and Chicago Alderman Edward Vrdolyak. Bragiel went on to sell Greenwood Enterprises to Ed Sokolofski.
Under Sokolofski's rein, Greenwood Enterprises would grow larger than ever before. In 1992, the company bought Handtip, a company dating back to the 1900s, and moved it to Chicago. They purchased Happy Button from Joliet in 1993, and Option Products in 2003. Sokolofski recalled the buttons made for Clinton Democratic Convention as one of the more memorable products the company made. Of his time there, Sokolofski remarked on the incredible people who worked at the company, dedicating themselves to 25 years during his tenure. Sokolofski remained with American Greenwood until 2015 when he sold the company to Fields Manufacturing, where it is still in operation.
Source: 1938 Chicago International Air Show Exhibitor Badge. (n.d.). Flying Tiger Antiques. Retrieved from: https://www.flyingtigerantiques.com/1938-chicago-international-air-show…
Source: American Badge. (1991). Southtown Star. Retrieved from: https://www.newspapers.com/image/538372321/
Source: American Badge Co. (n.d.). TokenCatalog.com. Retrieved from: https://tokencatalog.com/token_record_forms.php?action=DisplayTokenReco…
Source: Century of Progress International Exposition Chicago, Il. (1933). Official guide: book of the fair, 1933. Century of Progress.
Source: Crete Centennial Celebration. (n.d.). TedHake.com. Retrieved from: https://www.tedhake.com/_CRETE_CENTENNIAL_CELEBRATION___JULY_4__1936___…
Source: Directory of Directors in the City of Chicago [Telephone Directory]. (1905). New York, New York: Audit Company of New York.
Source: Fields Manufacturing acquires American Greenwood Inc. (2015). Print+Promo. Retrieved from: https://www.goprintandpromo.com/article/fields-manufacturing-acquires-a…
Source: Johnson, E.. (1924). Illinois Products Exposition at Chicago. Office Appliances: The news and technical journal of office equipment, 40(6), 163.
Source: Obituary: Kenneth Thomas Buck, Jr. (2016). Advertising Specialty Institute. Retrieved from: https://www.asicentral.com/news/newsletters/promogram/march-2016/obitua…
Source: Paperweight-American Badge Company. (n.d.). ebay. Retrieved from: https://www.ebay.com/itm/372224954420
Source: Perot gets 'em out of a button hole. (1992). Los Angeles Times. Retrieved from: http://search.proquest.com.libaccess.sjlibrary.org/docview/281795792?ac…
Source: Smith, F. L. (1919). Locking mechanism for pocket savings-bank. U.S. Patent No. 1,297,025. Washington, DC: U.S. Patent and Trademark Office.
Source: Shears, M. (2017). Emblem manufacturers and their marks. American Auto Emblems. Retrieved from: http://www.americanautoemblems.com/p/emblem-manufacturers-and-their-mar…
Source: Swanson, C. (1989). A slogan left behind 'remains to be seen.' Southtown Star. Retrieved from: https://www.newspapers.com/image/537514289/
Source: Theodore Roosevelt Campaign Walking Stick. (n.d.). Heritage Auctions. Retrieved from: https://historical.ha.com/itm/political/theodore-roosevelt-campaign-wal…
Buttons in the museum manufactured by American Badge Co.
Buttons in the museum manufactured by Greenwood Enterprises