AdCraft Manufacturing Co./ADCO Litho Line
Like many Button Manufacturers of previous eras, AdCraft Manufacturing Co. started its humble origins in the Windy City itself, Chicago, in 1919. The company initially offered products such as conference and luncheon badges, celluloid and metal buttons, ribbons and other advertising novelties and products. Their products ranged from traditional advertising buttons to conference badges. The most famous of buttons from the early history of the company is the 1929 Souvenir Chicago Cubs Champion Team Pin, considered a rarity in the baseball pinback of its era. The button contained individual portraits of the National League Champion 1929 Chicago Cubs. The Chicago Cubs lost the World Series in 1929, and therefore this pin, which identifies the team as the "1929 Champions," was issued for only a very short period of time. Much like other button and badge makers of the time, AdCraft also took part in the 1933-1934 Century of Progress International Exposition taking place in Chicago.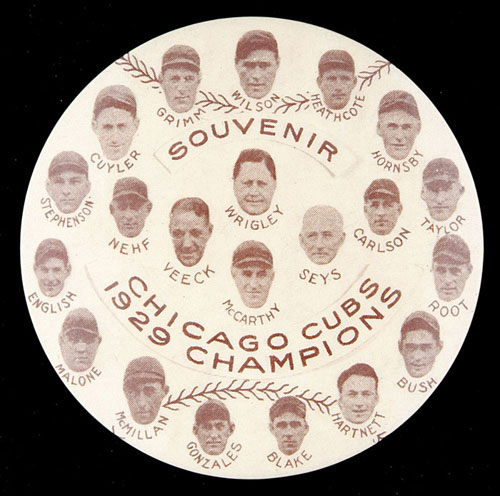 The company was taken over by Frank J. Sitzberger in 1947, turning the business into a family affair with his wife, Bette G. Sitzberger, as a co-owner. His son, Kenneth R. Sitzberger, a 1964 Olympic gold medal winner in diving, had his own firm within the company that provided tooling and engineering to the company, as well as a brief time in management. His other son, Francis D. Sitzberger, became the director of purchasing for the company serving in that capacity for 13 years.
During the 1970s, the company branched out to do other kinds of advertising, including and not limited to signs and displays and became a leading supplier of buttons. Like other companies, political buttons served as one of the largest outputs of products, the most famous being those the company produced for Ronald Reagan's and Hubert Humphrey's campaigns. The main source of income for the company at the time was commercial making buttons and badges for conventions. Some other well-known products AdCraft produced included the "We Try Harder" buttons for Avis Rent A Car and a campaign button for the potato industry featuring the words, "Anything Goes with French Fries." Sears, Roebuck and Co., Hallmark Cards, and the State of Pennsylvania were all former AdCraft customers.
During this time, the company went into a big slump. Within the same year that owner and president Frank J. Sitzberger spoke about the growth of the business, he also lamented the decline of the button making business placing the blame on new campaign finance laws, resulting in fewer orders for campaign buttons. With the fall of campaign buttons, AdCraft sold its button making subdivision, ADCO Litho Line, in 1978. AdCraft carried on in the advertising business without buttons, until financial strains proved too much for the company and it went out of business.
AdCraft's ADCO Litho Line, on the other hand, did carry on in the button making business for a time without its parent company, AdCraft. Under the helm of ADCO president, Rudy Batholomei, the company rivaled American Badge, a button maker competitor also centered in Chicago. It was one of the many button companies revitalized by Ross Perot's presidential campaign in 1992. The company continued on in the button and advertising business until 2018 when it had to close its doors for good.
Source: 1929 Souvenir Chicago Cubs Champions Team Pin. (n.d.). Robert Edward Auctions. Retrieved from https://robertedwardauctions.com/auction/2013/spring/1391/1929-souvenir…
Source: A Century of Progress records, Special Collections and University Archives, University of Illinois at Chicago. (n.d.). Retrieved from https://explore.chicagocollections.org/ead/uic/25/j687/
Source: Bette Sitzberger Obituary. (1987, October 5). Chicago Tribune. Retrieved from https://www.newspapers.com/newspage/388571364/
Source: Campaign button business languishes. (1976, October 9). Washington C. H. Record-Herald. Retrieved from https://www.newspapers.com/image/86020365/
Source: Conference and luncheon badges. (1929, June). The Rotarian: The magazine of service, 34(6), 64.
Source: Francis D. Sitzberger Obituary. (1976, May 13). Chicago Tribune. Retrieved from https://www.newspapers.com/newspage/383691773/
Source: Perot candidacy boosts slumping button business. (1992, October 9). The Indianapolis News. Retrieved from https://www.newspapers.com/newspage/313071899/
Source: Peterson, M. (1978, November 7). Button, button, who's…Politicians forego badges, others take them up. The Sacramento Bee. Retrieved from https://www.newspapers.com/newspage/620944485/
Source: Soble, R. L. (1974, October 18). Button makers get message in President's WIN campaign. The Los Angeles Times. Retrieved from https://www.newspapers.com/newspage/385998203/
Source: Wiener, L. (1976, February 23). Political candidates pin hopes on buttons and he supplies them. Chicago Tribune. Retrieved from https://www.newspapers.com/newspage/382397710/
Source: You can't tell the candidates without a button. (1976, February 28). The Dispatch. Retrieved from https://www.newspapers.com/newspage/341839914/
Buttons in the museum manufactured by ADCO Litho
Buttons in the museum manufactured by Adcraft Manufacturing.