Whitehead & Hoag Company
The Whitehead & Hoag company was formed in 1892 in Newark, New Jersey, as a partnership between printer Benjamin S. Whitehead and paper merchant Chester R. Hoag. It soon became the largest manufacturer of novelty advertising in the United States, eventually making over 5,000 different items. In the late 1890s, the company had branch offices across the U.S. and in England, Australia, and Argentina.
In its first decade, Whitehead & Hoag acquired three major patents on the design and manufacture of buttons. The company's non-partisan roster of clients included commercial businesses, both major political parties as well as Socialists, Communists, and Prohibitionists, and various club and fraternal organizations. The U.S. presidential election of 1896 marked the first time political campaign buttons blanketed the country.
Its first huge order from the American Tobacco Company at the rate of roughly 1 million buttons per day. With no machinery yet to place the paper on the button backs, residents living near the factory were hired to perform the task. A new factory built in 1903 housed a complete printing plant with lithography, art and photo engraving, and machinery departments. W & H's manufacture of buttons included their design all the way to the finished product.
In 1919, Benjamin Whitehead left the company's presidency and became its chairman of the board. W & H had been a union company, even noting specific unions that operated in the factory on its button labels. though the company was no longer a union shop, some of its button labels, such as for political campaigns, still represented it as one. During World War II, the company converted to making ID buttons for wartime factories.
After Chester Hoag's son Phillip died in 1953, no Whitehead or Hoag family member remained on the board. Further, the company went through cycles of a few years of profitability followed by long stretches of operating at a loss, and it only advertised on its own products. In this environment, W & H was sold to a longtime competitor and union shop, Bastian Bros. of Rochester, New York, in 1959. The new owners sold or scrapped machinery, and W & H's records were destroyed. Bastian Bros. phased out the Whitehead & Hoag name in 1965.
Source: Hake, Ted. (2015). Whitehead and Hoag company history. Retrieved from http://www.tedhake.com/viewuserdefinedpage.aspx?pn=whco
Buttons in the museum manufactured by Whitehead & Hoag Company
---
Parisian Novelty Co.
Parisian Novelty Company was the oldest button manufacturer in Chicago. Founded in 1898 by Louis L. Joseph, the company was a leading manufacturer of button parts, button-making machinery and equipment in North America.
The company manufactured novelties such as pinback buttons and compacts that made use of celluloid images to advertise various products. Cheap to make and flexible, celluloid was one of the first plastics used for commercial purposes. In the early 1900s, company superintendent Joseph L. Komorous, acquired several patents related to such items as brushes, watch fobs, thermometers as well as pins and buttons. .
In 1915, he received a patent for a "toilet box," or compact, as it's now known. Using advertising on compacts marked a bit of a risk, since use of cosmetics was not universal at that time; women tended to use it discreetly. As more manufacturers entered the market and use of makeup gained more widespread acceptance, the Parisian Novelty Co.'s share of the market decreased.
This 1928 advertising mirror is one example of the company's products: 
Parisian Novelty Co. also made ID pin badges for factories during World War II and continued to produce pinback buttons and other items after the war. In November 2008, the Matchless Group, another Chicago institution since 1885, acquired the Parisian Novelty Co. and renamed the combined company Matchless Parisian Novelty, Inc. The Busy Beaver Button Museum acquired buttons and other ephemera from the closed factory in Bridgeport. The company continues to make metal button parts used in advertising, campaign, and promotional buttons.
Source: Collecting Vintage Compacts. (2015). The Parisian Novelty Company and its Celluloid Advertising Cases. Retrieved from http://collectingvintagecompacts.blogspot.com/2012/05/parisian-novelty-company-and-its.html
Source: Matchless Parisian Novelty, Inc. (2015). About Matchless Parisian Novelty. Retrieved from http://www.matchlessparisiannovelty.com/about.html
Buttons in the museum manufactured by Parisian Novelty Company
---
Green Duck Button Company
The Green Duck Co. was founded in Chicago in 1906 by George G. Greenburg and Harvey Ducgheisel. The "Greenduck" name was taken from the first syllables of their last names and was meant to be one word, but people tended to use it as two words, so the company became the Green Duck Metal Stamping Co. It produced various metal items such as license plates, tokens, clickers, watch fobs, and lithographed buttons.
During World War II, Green Duck supplied the U.S. Army's 101st and 82nd airborne divisions with metal "crickets" with which they signaled each other on the D-Day landing and afterward (they were so named because they looked and sounded like children's toys resembling a cricket). Two clicks signified a fellow American; four clicks meant a German soldier was nearby.
Among the buttons the company made were official Beatles fan club memorabilia and campaign buttons for Estes Kefauver and Dwight D. Eisenhower, including the iconic "I Like Ike" buttons. Green Duck also made needle threaders, key chains, and fraternity pins.
Green Duck moved to Hernando, Mississippi in 1975.* It was sold to a British firm in 1996 and closed in 2004. In January 2010, items from the Green Duck archives, including button sales sheets, Rin-Tin-Tin puzzles, and Cracker Jack army insignia buttons, were auctioned off by Hake's Americana and Collectibles.
The St. Louis Button Co. printed buttons for some notable politicians, including Jeannette Rankin, the first woman elected to the U.S. House of Representatives. This button is from her second successful campaign in 1940:
The St. Louis Button Co. was in business well into the 1950s.
Buttons in the museum manufactured by St. Louis Button Co.
---
Bastian Bros.
Founded in 1895, Bastian Company was incorporated as Bastian Bros. in Rochester, New York by Theron and Fredrick Bastian. They originally ran a jewelry store, but after buying the button, advertising, and specialty portion of the Pulver Chemical Co. began to manufacture lapel pins, buckles, knives, official badges, medals, and other items. By late 1915, the union shop moved to a modern building on 11 acres. Published for foreign trade commissions, the 1919 Book of Industrial Rochester touted the Bastain manufacturing facility's air conditioning, hospital facilities, open space and athletic fields for its 700 employees.
Bastian Bros. often fulfilled large orders for pinback buttons and other novelties. In 1929, Regal Doll Company ordered 300,000 eyes for its dolls. It refused to pay for the shipped order, saying the buttons were the wrong color and size. Yet Bastian, represented by Kenneth B. Keating (future U.S. Senator who lost his 1964 re-election campaign to Robert F. Kennedy), won more than $4,500 in a breach-of-contract lawsuit. 
The company also had longtime employees and clients, including Alphonse Kolb, a master die maker for 60 years, and the Rochester Numismatic Association, which had Bastian make its club's presidential medals from 1921 to 1977. Until 1957, the company made class rings for universities such as Harvard, Yale, Princeton, Illinois, Wisconsin, Syracuse, and others.
When Theron Bastian died in 1955, his son Hugh continued the family's connection with the company. In 1959, Bastian purchased Whitehead & Hoag, its foremost competitor in the pinback and novelty business, which had been in operation since 1892. Whitehead & Hoag's machines, dies, and tools were scrapped; even its records were destroyed. Bastian continued to use the Whitehead & Hoag name, phasing it out in 1964-65.
Bastian went public in February 1981, and the Metal Arts Company purchased an 89% stake in June. Yet in a few years, Metal Arts went bankrupt and sold the medal-minting portion of Bastian's business to a London firm. Metal Arts emerged from bankruptcy in 1988 and moved what remained of Bastian to Geneva, New York in 1991. The company continues to manufacture pins, buckles, artwork for automobiles and other items.
Source: Shilling, Donovan A. (2012).They Put Rochester on the Map: Personalities of Rochester's Past. Pancoast Publishing, Rochester, NY.
Source: Rochester Chamber of Commerce. (November 18, 1919). The Book of Industrial Rochester. RCC, Rochester, NY.
Source: Bastiancompany.com. (n.d.). Bastian Company Profile.
Source: Tedhake.com. (n.d.). Whitehead & Hoag Company History.
Buttons in the museum manufactured by Bastian Bros.
---
Donnelly/Colt
Donnelly/Colt Progressive Resources was founded in 1975 by couple Kate Donnelly and Clay Colt and is a small, family-owned and operated business that provides progressive materials for consciousness raising and fundraising. They started out by buying a proof press in San Francisco and began hand setting wooden and metal type and printing bumper stickers. Their first bumper sticker was "Jail to the Ex-Chief", in reference to Richard Nixon resigning as President and their low-tech equipment forced them to make items one at a time. Today, Donnelly/Colt is the nation's oldest purveyor of peace paraphernalia.
Colt and Donnelly moved to Connecticut in 1985 and began branching out into buttons, T-shirts and other merchandise that made statements about social change. Donnelly/Colt is not technically a button manufacturer, but what is known as a "jobber", meaning other shops actually make the buttons for Donnelly/Colt. Whenever possible, their products are made by union shops. They have been involved in many movements for social change over the past years and "still fundamentally believe in the basic tenant that grassroots, local action is what brings about social change.
Buttons in the museum by Donnelly/Colt
---
Detroit Badge and Novelty
Detroit Badge, sometimes known as the Detroit Badge and Novelty (Button, Political, n.d.), operated out of Detroit, Michigan dating back to 1914 (Polk's Detroit City Directory, 1914). The company was especially active during the 1980s, a popular time for buttons, when they produced many politically themed buttons.
When and why the company went out of business remains a mystery for now, but its legacy will live on in the buttons that still carry its name.
Source: Polk's Detroit City Directory [Telephone Directory]. (1914). Detroit, Michigan: R.L. Polk & Company.
Source: Button, Political. (n.d.). The Rutherford B. Hayes Presidential Library & Museums. https://rbhayes.pastperfectonline.com/webobject/EB1CB1F0-09BD-4A8B-B2AF-427517502840
Buttons in the museum by Detroit Badge
---
Dalo Buttons
Dalo Button & Emblem Co., Inc. began in New York in 1963. The company was officially registered as a wholesale clothing button company from 1966-2011. The company was managed by David Schneider, who would remain in the button business for over 20 years and would later go on to become president of the company ("Button, button", 1980).
The company's offerings ranged from different topics and subjects, rising in popularity in the 1970s when buttons in the U.S. became all the rage. Schneider noted sales had been increasing in the industry since 1968. The company had few objections to the content on the buttons they produced as long as they weren't obscene. Popular themes that emerged as subjects on their buttons and remained popular in the 70s had been campaign buttons, especially presidential ones, but the company would produce buttons that ranged from subjects like the Vietnam war, ecology, anti-war sentiment, student protests oriented ones (Blackman, A., 1970). Schneider was featured with his button collection when national press picked up the story of booming button business from Arizona to Michigan in 1970. Dalo promoted protests and causes from all philosophies and "stood ready to print almost anything anyone wants to protest."
Dalo Buttons & Emblem would face another business boom in the 1980s, where holidays and elections would generate large income for the company. The hunger would be so intense that the company would even go on to sell old campaign buttons from the 1970s to meet with the demand for buttons from vendors ("Button, button," 1980).
The business boom, however, wouldn't last forever. The reins of the company would pass on to Lois Schneider, who remained chairman until the business was officially dissolved in 2011 (Experian Information Solutions, Inc., 2011).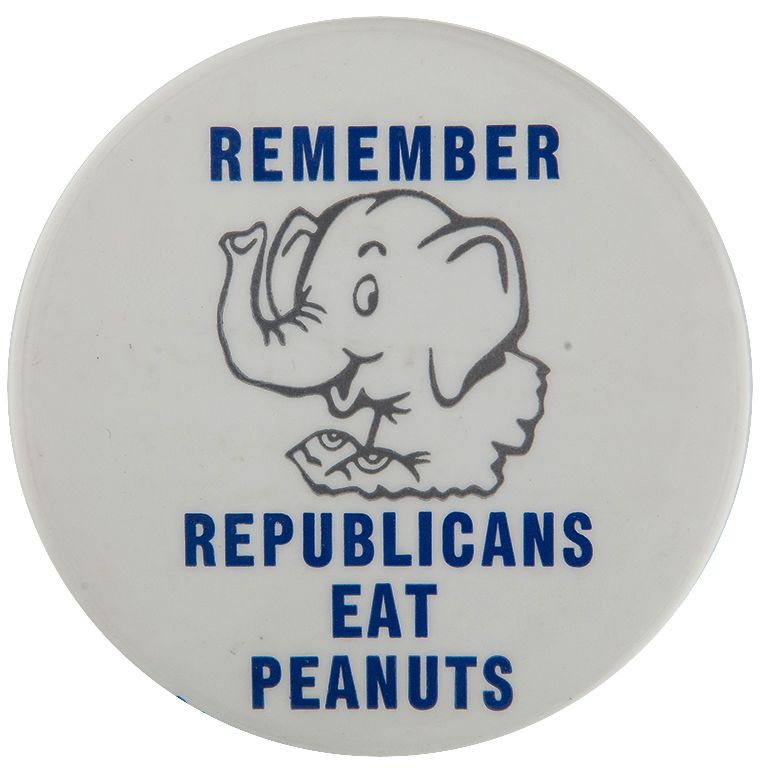 Source: AP Wire Photo (1970).
Source: Blackman, A. (1970, June 14). Button business booms when times turn bad slogans, sneers adorn lapels. Arizona Daily Star. https://www.newspapers.com/newspage/164560695/
Source: Button, button, they've got the button. (1980, August 11). Daily News from New York, New York. Retrieved from https://www.newspapers.com/newspage/485411810/
Source: Dalo Button & Emblem Co. Inc. (n.d.). Bizstanding. Retrieved from https://bizstanding.com/p/dalo+button++emblem+co+inc-88979086
Source: Experian Information Solutions, Inc. (2011, September 16). Dalo Button & Emblem Co Inc. Retrieved June 25, 2020, from http://search.proquest.com.libaccess.sjlibrary.org/docview/1567437682?accountid=10361
Buttons in the museum by Dalo Button & Emblem Co Inc.
---
American Badge Co.
The American Badge Co. was founded by Frank A. Smith in 1900. The company's products ranged from badges, buttons, banners, advertising, and novelties. Smith became the company's treasurer, president and director of the company for many years, along with his wife, who later also became one of the company's directors.
Advertisement was be the company's main focus, coming up with a range of unique products for their clients. Promotional items included a Theodore Roosevelt Campaign walking stick, encased cent currencies, along with the usual pinback buttons for sports teams like the Chicago Cubs, regional events, political figures, and badges. The company advertised its own business with encased cents and paperweights with information on the range of products they offered to the public. The company even joined in the automobile emblem business by making auto emblems for cars like fellow button and badge maker, Whitehead & Hoag. Smith went on to invent new products for the company, including a locking mechanism for a pocket savings bank.
The company was active in the Chicago community, taking part in the 1925 Illinois Products Exhibition at Chicago and the Chicago's World Fair in 1933, selling advertising products for the Crete Centennial Celebration, and the 1938 International Air Show in Chicago.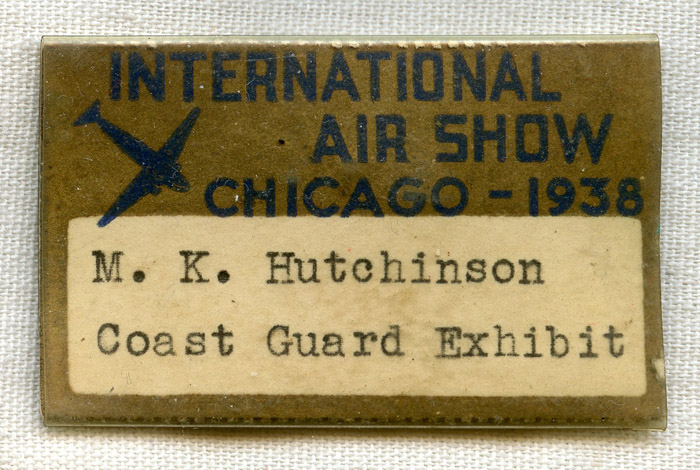 The ownership of the company stayed in the Smith family until Ed Dunne, Smith's grandson, sold the company to Ken Buck in 1977. At that point in the time, the company consisted solely of Buck, his wife, Mary, and his father, who operated the business out of Buck's garage. The business grew to a staff of 50-60 workers as the company became a family-owned business with Buck at the reigns along with Mary, who served as co-owner of the business. Buck became President of the Specialty Advertising Association of Chicago, a regional trade association representing 535 suppliers and distributors in the six-county Chicagoland area.
The company continued to work in advertising products. They went on to win the 1991 Supplier Star by Specialty Advertising Association International with the company hailed as best in performance and overall services and began taking International orders from companies as far away as Norway. The company went into a slump, perked up by the campaign of Texas billionaire Ross Perot's presidential campaign in 1992. Buck noted that with the rise of televisions, the use of traditional campaign buttons wasn't as popular or lucrative as it had been.
American Badge Co. remained a family operation until Buck and his wife retired, selling the company, which was renamed American Greenwood. American Greenwood, in turn, would be bought out by Fields Manufacturing in 2015 where it has operated under its own umbrella ever since.
Buttons in the museum by American Badge Co.
Source: 1938 Chicago International Air Show Exhibitor Badge. (n.d.). Flying Tiger Antiques. Retrieved from: https://www.flyingtigerantiques.com/1938-chicago-international-air-show-...
Source: American Badge. (1991). Southtown Star. Retrieved from: https://www.newspapers.com/image/538372321/
Source: American Badge Co. (n.d.). TokenCatalog.com. Retrieved from: https://tokencatalog.com/token_record_forms.php?action=DisplayTokenRecor...
Source: Century of Progress International Exposition Chicago, Il. (1933). Official guide: book of the fair, 1933. Century of Progress.
Source: Crete Centennial Celebration. (n.d.). TedHake.com. Retrieved from: https://www.tedhake.com/_CRETE_CENTENNIAL_CELEBRATION___JULY_4__1936____...
Source: Directory of Directors in the City of Chicago [Telephone Directory]. (1905). New York, New York: Audit Company of New York.
Source: Fields Manufacturing acquires American Greenwood Inc. (2015). Print+Promo. Retrieved from: https://www.goprintandpromo.com/article/fields-manufacturing-acquires-am...
Source: Johnson, E.. (1924). Illinois Products Exposition at Chicago. Office Appliances: The news and technical journal of office equipment, 40(6), 163.
Source: Obituary: Kenneth Thomas Buck, Jr. (2016). Advertising Specialty Institute. Retrieved from: https://www.asicentral.com/news/newsletters/promogram/march-2016/obituar...
Source: Paperweight-American Badge Company. (n.d.). ebay. Retrieved from: https://www.ebay.com/itm/372224954420
Source: Perot gets 'em out of a button hole. (1992). Los Angeles Times. Retrieved from: http://search.proquest.com.libaccess.sjlibrary.org/docview/281795792?acc...
Source: Smith, F. L. (1919). Locking mechanism for pocket savings-bank. U.S. Patent No. 1,297,025. Washington, DC: U.S. Patent and Trademark Office.
Source: Shears, M. (2017). Emblem manufacturers and their marks. American Auto Emblems. Retrieved from: http://www.americanautoemblems.com/p/emblem-manufacturers-and-their-mark...
Source: Swanson, C. (1989). A slogan left behind 'remains to be seen.' Southtown Star. Retrieved from: https://www.newspapers.com/image/537514289/
Source: Theodore Roosevelt Campaign Walking Stick. (n.d.). Heritage Auctions. Retrieved from: https://historical.ha.com/itm/political/theodore-roosevelt-campaign-walk...